Dr. Francisco G. Cigarroa–Making Generations of Dreams Come True
By Jody Joseph Marmel
Having a conversation with Dr. Francisco Cigarroa is like experiencing a breath of fresh air. His personality combines a refined intellect, a wealth of experience and a commanding vision towards our future with a profound appreciation of our past, all of which he has fortunately shared with the medical community throughout Texas over the last two decades. Those who know him, quickly realize that Dr. Cigarroa firmly believes that everything is possible; in fact, the word impossible does not exist in his lexicon. Listening to his captivating conversation made that word disappear within moments, even from my own perspective, as I appreciated Dr. Cigarroa's unique persona and the calming effect he has in helping restore hope in the future. He is truly a rare gem not only to his profession, but also to his family, friends and our community at large.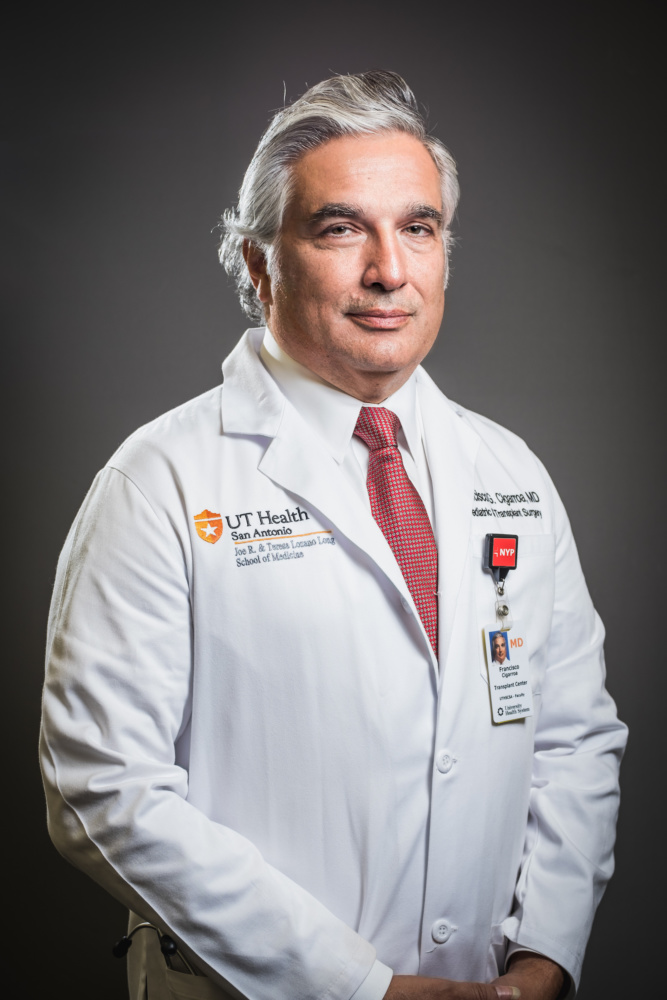 In interviewing Dr. Cigarroa, I questioned him about his formative years, curious to know more about how he became the person he is today. He recounted how early on, he was greatly influenced by stories from his family history, starting with that of his great-grandmother, Rebecca Iriarte Gonzalez de la Vega and the decision she made when she was widowed, with five children to raise, in Mexico City during the Mexican Revolution of 1910. Uncertain as to how she would support her children in a time when women in Mexico City were not even allowed to voice their opinions, her mother-in-law advised her to put her children to work . . . one as a shoemaker, another as a street vendor, and so forth. Mama Rebecca replied, "I'm sorry, but my husband had a professional career as an attorney. I am going to be the one to go to work to support my family so that my children can aspire to become professionals like their father." (A Mexican Dream, Cigarroa, 2016). Having made this decision, Rebecca sold tamales, made chocolates, taught piano and art, and served as a seamstress. Moreover, she opened her house as a boarding house for students who attended the Universidad Autonoma de Mexico (UNAM). As a result of this decision to earn enough money to ensure her children received a good education, they thrived, each one becoming extremely successful. Her eldest son, Angel, became Deputy Attorney General and then a Supreme Court Justice in Mexico; Manuel founded the Department of Chemistry at UNAM; Salvador was an eminent surgeon; and her youngest, Francisco (Dr. Cigarroa's Godfather) was a Professor of Law, Majority Senate Leader, Governor of Durango, Ambassador to Argentina and to Portugal, and the author of Mexico's Penal Code. Josefina, Rebecca's only daughter (Dr. Cigarroa's grandmother), who was uprooted from Mexico City after the Revolution of 1910, envisioned and helped establish the Cigarroa Clinic in Laredo, Texas where she worked every day until she was in her nineties. Dr. Cigarroa adds, "She loved every moment of serving the people of Laredo."
Dr. Cigarroa explains, "Mama Rebecca's decision profoundly affected the next generation and generations after that in our family." Her decision, he explained, was founded on the importance of education for her children's future . . . a value that has inspired generations from their family to reach their potential in order to better their families and their communities.
He also provided many more details of this fascinating story. "When Mama Rebecca made the decision to open her house to boarding students, who came along? My grandfather, Joaquin Gonzalez Cigarroa, Sr., an orphaned student looking for boarding so he could attend medical school at UNAM. His older brother, Leonides had just fled to the United States after Pancho Villa's guerrillas were about to execute him. My grandfather gave them the family's silver mines in Mapimí, Mexico in exchange for Leonides' life."
After receiving his medical degree at UNAM, Dr. Joaquin Gonzalez Cigarroa, Sr. married Mama Rebecca's only daughter, Josefina. They eventually moved to San Antonio and later moved to Laredo. He established the Cigarroa Clinic along with his two sons, Leonides and Joaquin, who also became physicians, and his daughter, Rebecca who became a pharmacist.
"The pure generosity Mama Rebecca activated by helping a student who did not have economic resources to pursue his calling had such worth that today, it continues to yield exponential returns that cannot possibly be measured."
Not only Dr. Joaquin, but his sons and daughters, became exemplary physicians and leaders in South Texas and beyond.
Dr. Cigarroa's grandfather (Dr. Joaquin Cigarroa, Sr.) started a weekly tradition, "El Dolar," in their Laredo home, as he reflected on Mama Rebecca's generosity that had allowed him to pursue his dreams. Each grandchild would contribute a dollar from their allowance, matched by their parents, for their college fund. Dr. Cigarroa vividly remembers contributing every Sunday. "I understood this was a sacrosanct tradition and that my future education was of great importance. This decision of Abuelito's led to his 24 grandchildren pursuing a higher education so that we now count dozens of degrees—including 20 medical degrees—that his grandchildren and great-grandchildren have earned by following in his footsteps. And just as importantly, these traditions are now firmly established with a vision for the future."
Growing up in Laredo on the Texas-Mexico border, as the son of a physician, his father, Dr. Joaquin Cigarroa, Jr. also provided him with tremendous experience in understanding the challenges faced by a medically underserved region, "Resulting in significant health care disparities which are now looming public health issues not only for Texas, but for the entire country." Dr. Cigarroa emphasized, "In shadowing my father as he made house calls, and seeing his love of his practice, I received a firsthand view not only of the beauty of the art of medicine, which has run through four generations in my family, but also how this art profoundly touches all classes from the poorest to the wealthiest without regard to class status or homeland of origin." From 1955 to today, Dr. Cigarroa's parents have created a home in which the daily practice of confidence, love, respect and life-long learning are expressed. "I know that for me, this legacy has been at the very core of every decision I have made and will ever make."
By way of background, Dr. Cigarroa attended Yale University and graduated with a bachelor's degree in biology. In 1983, he earned his medical degree from The University of Texas Southwestern Medical Center in Dallas. He then went on to complete General Surgery at Massachusetts General Hospital and his fellowships in Pediatric Surgery and Transplantation Surgery at John Hopkins University in Baltimore, Maryland. "I always thought I was going to be a cardiac surgeon and throughout medical school, I kept believing this. In my fourth year as a surgical resident, I knew that this was not the specialty for me when I discovered pediatric surgery. Caring for children made me realize that I could wake up at the age of 75 or 80 and still get excited about what I could do for my patients and their families." Dr. Cigarroa enjoys the continuity of care that exists in pediatrics and he is rewarded by helping his patients by giving them a better quality of life.
As Director of Pediatric Surgery at the University of Texas Health Science Center at San Antonio (UTHSCSA), he established a Pediatric Liver Transplant Program with his partner Dr. Glenn A. Halff, whom he greatly admires. Once he became President of UTHSCSA, Dr. Cigarroa continued to take surgical call every other weekend. When asked why he made the decisions he made in different time periods in his life, Dr. Cigarroa expressed, "In every fork in the road, when facing divergent paths, I made an intentional choice to go one way rather than another guided by the compass of my family legacy that informed me to have the confidence not just to pursue the tried and true, but also to explore intriguing paths fraught with risks, challenges, and wonder."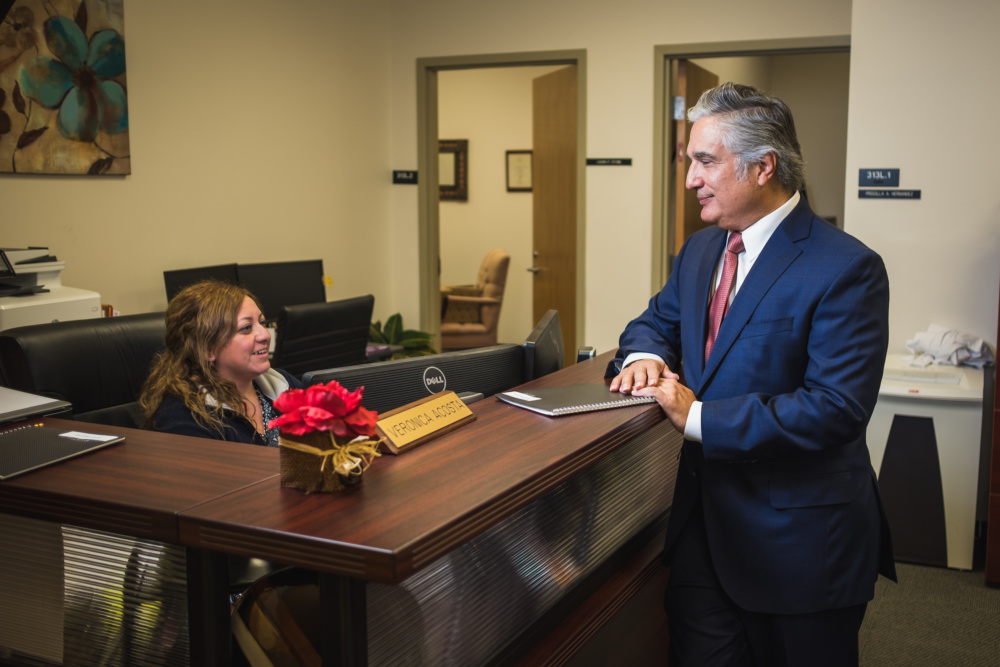 One of Dr. Cigarroa's favorite poems is "The Road Not Taken" written by Robert Frost:
Two roads diverged in a yellow wood,

And sorry I could not travel both

And be one traveler, long I stood

And looked down one as far as I could

To where it bent in the undergrowth;

Then took the other, as just as fair,

And having perhaps the better claim,

Because it was grassy and wanted wear;

Though as for that the passing there

Had worn them really about the same,

And both that morning equally lay

In leaves no step had trodden black.

Oh, I kept the first for another day!

Yet knowing how way leads on to way,

I doubted if I should ever come back.

I shall be telling this with a sigh

Somewhere ages and ages hence:

Two roads diverged in a wood, and I—

I took the one less traveled by,

And that has made all the difference.
An example of a decision Dr. Cigarroa made to try a road less traveled occurred in the year 2000. The UT Board of Regents was conducting a search for a new UTHSCSA president and his name was thrown into the hat, so to speak. At the time, he had no interest in becoming anything but a full-time surgeon. He did not care for long meetings and viewed them as an inefficient use of his time.
"But my father and brother drove to San Antonio and urged me to go through the process. My father said, 'You do not want to be disrespectful to the Regents.' I asked him what he thought my chances were of becoming president and he said about one in a million. I liked those odds because I really did not have an interest in entering administration."
To Dr. Cigarroa's astonishment, he beat the odds. "I can tell you that it is a unique experience to be promoted to President of UTHSCSA five years out of surgical fellowship. I asked Dr. Gerald Austen, Chairman of Surgery at Massachusetts General Hospital, whether I should pursue this opportunity and he said, 'Yes, but do not forget surgery . . . .' " Heeding this advice, Dr. Cigarroa accepted the role with the stipulation that the Regents allow him to continue his surgical calls every other weekend.
Since Dr. Cigarroa had not been trained in administration but as a surgeon, he immediately surrounded himself with the best people he could find. "I told them that I had a vision, but not a prescriptive agenda. I empowered my staff to show leadership, accept responsibility and to get things done. In turn, they became more open and involved with helping create a new strategic plan."
The rest is history with UTHSCSA's growth and collective accomplishments while Dr. Cigarroa was President highlighted below. (Sansom, 2009)

The operating budget rose 90% to $668 million

Philanthropic gifts in the Cigarroa era totaled $353 million. This included a $25 million gift from Joe and Teresa Lozano Long to benefit medical students interested in practicing medicine in South Texas

The research expenditures increased 150% to $210 million

National Institutes of Health grants more than doubled to $107 million

Annual Hispanic enrollment rose 30% and the total of annual Hispanic graduates rose 70%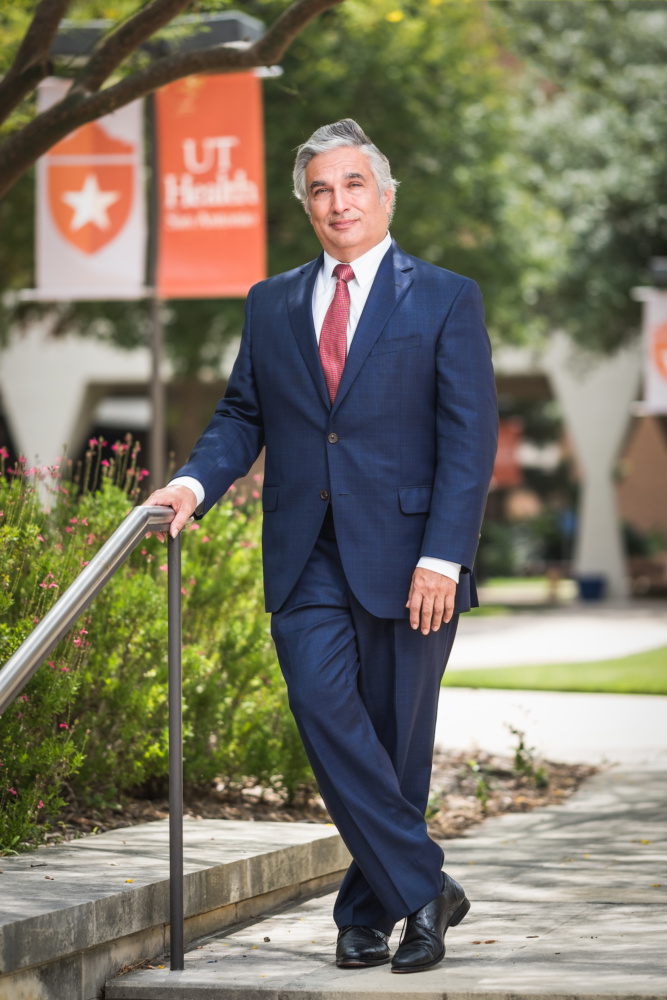 After nine successful years serving as president, Dr. Cigarroa decided to go back to Pediatric and Transplant Surgery. But an "untraveled road" presented itself yet again when the new Chairman of the Board of Regents, Scott Caven, called and told Dr. Cigarroa that he wanted to interview him for the open position of Chancellor of the UT System. He accepted a new road yet again, this time becoming Chancellor of the UT System.
"As President and Chancellor, I used the same techniques I used when I created a successful team of transplant surgeons, with my mantra being: Work together, share the decision-making and strive for continual improvement. Hold yourself and the team accountable when things do not go as expected. Treat everyone with respect. And listen."
Dr. Cigarroa accepted the Chancellorship with the same stipulation he requested at UTHSCSA, namely that he continue to take surgical calls to perform transplants and save lives.
"I did not want to leave the patient's bedside for administration . . . . It also provided me with important insights that made me a better leader by being on the frontline of patient care together with my fellow faculty, students and staff. In my wildest dreams growing up in Laredo, I never imagined I would become a surgeon, much less Chancellor of one of the greatest systems of higher education in the world. As the first Hispanic Chancellor in the history of the UT System," Dr. Cigarroa stated, "I am aware that I not only made history, but I helped shape it by positioning others to follow in my footsteps."
The UT System has 14 institutions that are educating and training a new generation of students and doing world-class research that is improving the quality of life in Texas and beyond. The visions and ideas that Dr. Cigarroa shared with his administration played a large part in the success of the UT System. "The UT System has much to celebrate. Our institutions are strong and world class, following their own trajectories toward excellence," he says. To Dr. Cigarroa, quality is a moving target, so, as Chancellor, he introduced a Framework for Higher Education that changed the environment in higher education.
The Framework for Advancing Excellence throughout the UT System was an effort to address a number of challenges in higher education and to position UT institutions among the best. The focal points are below and Dr. Cigarroa states, "I am pleased to report that 100 percent of the initiatives were implemented."
To enhance undergraduate student access and success

To focus on faculty, administration, and staff excellence

To enhance success in research

To emphasize productivity and efficiency across the operations of the UT System

To invest in high-performance computing

To enhance philanthropic success

To enhance excellence and accountability across the PhD programs

To enhance the health of Texas

To expand educational and health opportunities in South Texas and to plant a larger UT flag
One of the most exciting new developments during Dr. Cigarroa's tenure as Chancellor was the establishment of the Dell Medical School at the University of Texas at Austin. "It is now the first medical school established at a major Tier One (American Association of Universities) public research institution in the last fifty years. It will transform healthcare in Central Texas. In fact, with the addition of a medical school, UT Austin has the potential to become the top public research university in the nation, which was one of my most important initiatives as Chancellor."
Dr. Cigarroa and his team also moved boldly forward with Project South Texas, including their plans to create a new university and medical school in the Rio Grande Valley. It is an area where the population is rapidly growing, but where current opportunities for upward mobility are limited. "In the Rio Grande Valley, there is an increasing need for doctors and health professionals, teachers and a myriad of other professions that will improve basic services, educate children and grow the economy in that region of Texas." At the centerpiece of Dr. Cigarroa's commitment and vision, the Regents, together with the Legislature, funded a new university and medical school that will span the entire Rio Grande Valley with a presence in each of the major metropolitan areas in the Valley. The new university is called University of Texas Rio Grande Valley (UTRGV) and the first students matriculated in September of last year. "This university will be transformative to Texas and our nation." Of note, prior to the establishment of UTRGV, the UT academic campuses in South Texas were not eligible for funds from the vast UT Oil and Gas Endowment, otherwise known as Permanent University Funds because of constitutional restrictions. Dr. Cigarroa always felt that this was a huge inequity for the students, faculty and staff from South Texas. Imagine being a part of the University of Texas Family and being excluded from this endowment! Dr. Cigarroa and the UT Board of Regents finally figured a way to direct these precious funds to the Rio Grande Valley. They proved skeptics wrong and the impossible became the possible!
One of America's premier architects, Daniel Burnham, once said, "Make no little plans. They have no magic to stir men's blood and probably will not themselves be realized." At the UT System, Dr. Cigarroa believes that "Make no little plans" could be the guiding principle. He elaborates, "The stereotype of Texans is that we are given to exaggeration, but it is no exaggeration to say that the aspirations of the UT System are big and bold. Every day at our universities, we are implementing innovations that create a stronger learning environment, improve the undergraduate experience, contribute world-class research, render public service, and provide nationally acclaimed medical training and patient treatment. We are saving lives and shaping lives. We are transforming the world in which we live."
It is self-evident that Dr. Cigarroa's accomplishments are endless. He has helped the medical community, the healthcare system and the universities within the UT System through the decisions he made as Chancellor. By creating a strong team in each one of his extremely important positions, he established blueprints for growth and outstanding accomplishments that all of us will benefit for years to come.
Back full circle, in 2015, Dr. Cigarroa returned to his lifetime love of surgery at UTHSCSA on a full-time basis, working again with Dr. Glenn A Halff. "It is a fantastic experience being involved in helping my patients and saving lives. It is also extremely rewarding being active in educating students and residents, and being a part of the very system I led. Reestablishing the pediatric liver transplant program is also exceedingly rewarding and meaningful as these children no longer have to travel to Houston or Dallas to receive this life saving surgical procedure. No longer should any child or adult patient have to leave San Antonio to receive their medical care with such a strong and talented medical community, and a first-rate medical school. I truly love the people here and we are all a part of the team. It is also impactful to be doing research on Hepatocellular Carcinoma, affecting Hispanics in South Texas, as a Clayton Research Scholar."
After having served in one of the top careers in education in Texas through which he raised the bar both in education and medicine, Dr. Cigarroa certainly should be very proud. Through his exemplary life he has personified how a family's values and dreams, starting generations ago, continue to be instrumental for future generations as they also consider roads less traveled by in achieving their life's calling. Striving for excellence is what Dr. Cigarroa does every day, while maintaining a healthy balance in life. His family and loved ones are a big part of that equation, and just as his great-grandmother, grandparents and parents taught him to reach his highest potential, Dr. Cigarroa inspires the next generation in kind. No doubt, as a result the Cigarroa tradition will continue, and future generations will benefit from their individual and collective passions for excellence, thereby positively affecting the lives of countless others through the decisions they make.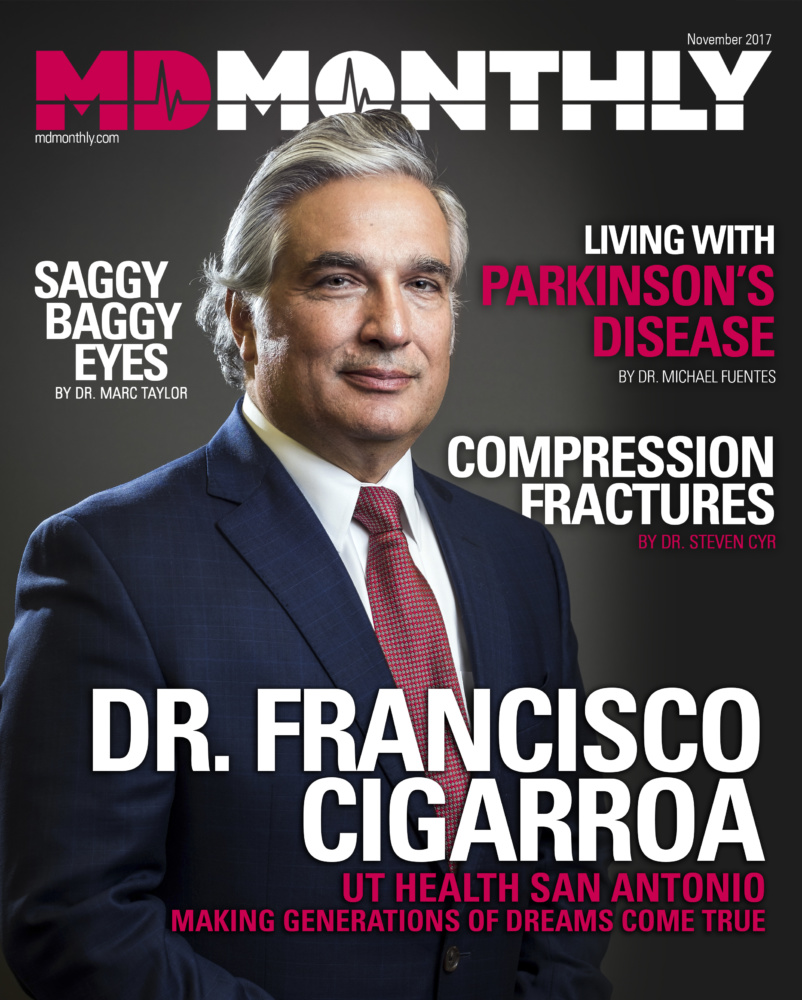 Citations:
Barbara Gonzalez Cigarroa,

A Mexican Dream and Other Compositions

. 2016. TCU Press
For more information on history of Cigarroa family see website for A Mexican Dream at amexican-dream.com
Will C. Sansom. The Crown Jewel. 2009. The University of Texas Health Science Center San Antonio
For More Information-
Francisco G. Cigarroa, M.D.
Division Head of Liver & Pediatric Transplantation Surgery
Carlos and Malú Alvarez Distinguished University Chair
Ashbel Smith Professorship in Surgery
Clayton Research Scholar
University of Texas Health San Antonio
7703 Floyd Curl Drive, MC 7858
San Antonio, TX 78229-3900
Phone: 210-567-5777
Email: cigarroa@uthscsa.edu
Photographer: Paul Marshall