Driscoll Children's Hospital | Breathing New Life
Pediatric Pulmonologists Find Practice Rewarding at Driscoll Children's Hospital in South Texas
By Kiko Martinez
Dr. Santiago Encalada always knew he wanted to work with children diagnosed with asthma. He finds joy in speaking to his young patients and their families, not only as a doctor but as someone who understands what it has been like living with the respiratory condition himself since he was a child.
"If I can have a normal life with asthma, then I want the same thing for my patients," Dr. Encalada said.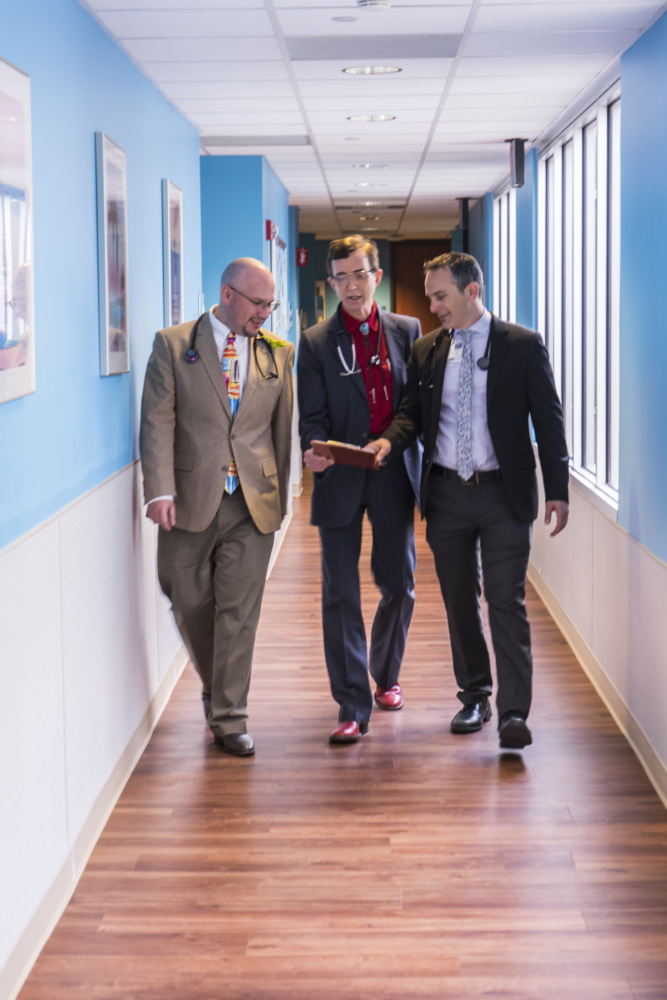 Dr. Encalada is one of three pediatric pulmonologists currently practicing at Driscoll Children's Hospital in Corpus Christi, Texas. Pulmonology is the branch of medicine concerning the lungs and respiratory system. Along with asthma, other conditions pediatric pulmonologists treat include congenital lung anomalies, airway and lung infections, cystic fibrosis, and children with tracheostomies dependent on mechanical ventilation.
Founded in 1953, Driscoll was, and still is, "the only free-standing children's hospital in South Texas." In 2017, the hospital saw more than 180,000 children from across the state. Along with pulmonary medicine, Driscoll specializes in a host of medical fields, including cardiology, neurology, urology, genetics, cancer and blood disorders, nephrology and more.
It is in the field of pulmonology, however, where Dr. Encalada and fellow Driscoll physicians, Dr. Paul Nolan and Dr. Jon Roberts, have dedicated their lives.
Driscoll is a special place for Dr. Encalada. He completed his pediatric residency there from 2010 to 2013, so when a position opened earlier this year, he jumped at the opportunity to return to South Texas.
"The first time I came to Driscoll, it felt like I had found a hidden gem," Dr. Encalada said. "Everyone was really friendly. It felt more like family than a job. I think that's a good thing."
Although he is the newest pulmonologist at the hospital, Dr. Encalada quickly realized that treating a child also meant embracing the entire family – from parents to siblings to grandparents. It's part of the job that Dr. Encalada finds the most rewarding – to give everyone hope.
"It's all about providing support to the families and kids," he said. "Caregivers come in with lots of questions, so I want to be able to answer as many of them as possible. Forming those partnerships with the family is very important to me."
Taking Pride
Dr. Jon Roberts has been with Driscoll for seven years. He completed his general pediatrics residency at Winthrop University Hospital in New York. Roberts said that of the children each pulmonologist sees per day, most of their patients suffer from asthma. What he is most proud of, however, is the work he and his colleagues have been able to do with patients diagnosed with cystic fibrosis. Cystic fibrosis is a chronic, genetic disease that causes the body to make thick mucus that can clog the lungs and lead to severe infections. It may also block the pancreas and keep natural enzymes from helping the body digest and absorb food. The disease currently has no cure, shortens the lifespan, and poorly affects quality of life. In 2015, Driscoll was approved for accreditation by the Cystic Fibrosis Foundation as a nationally recognized affiliate cystic fibrosis center.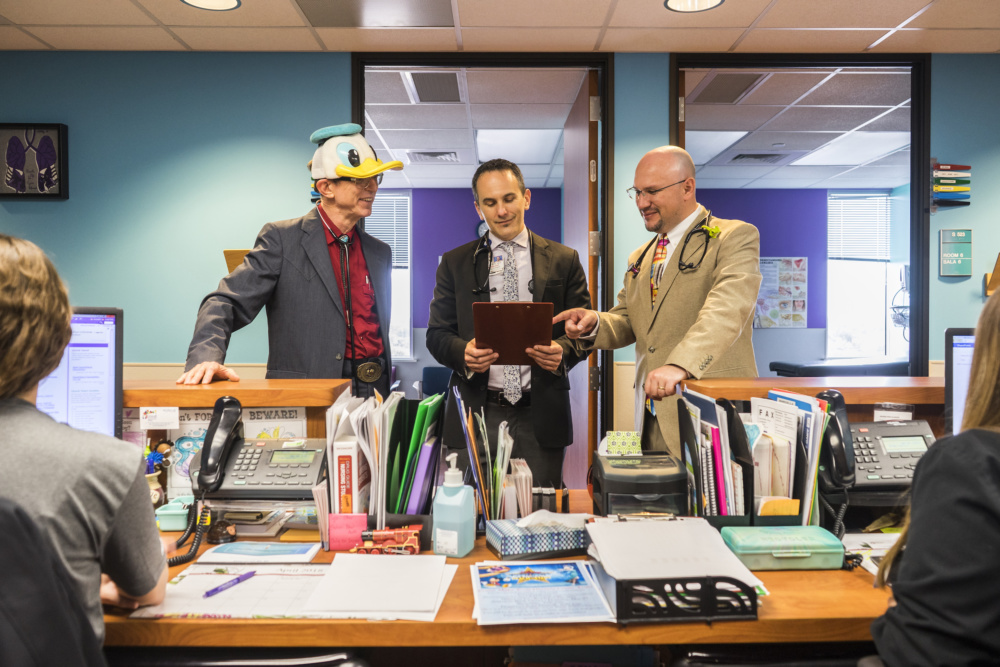 "Before that, the closest place for a child to get treatment was San Antonio," Dr. Roberts said. "It was a great team effort to come together and show everyone that we had what it took to be an accredited center. We're up to 50 patients now. It's a source of pride for us."
During his career, Dr. Roberts said that big breakthroughs are coming for cystic fibrosis patients, which include new medications (the latest is called Symdeko) that are treating the genetic cause of the disease. In the past, treatment has only focused on dealing with the effects of the disease, like pneumonia and poor digestion.
"With these new medicines, we're saying, 'Maybe we can go to the source and prevent the effects of CF before they happen,' " Dr. Roberts said. "The medicines aren't quite there yet, but the newer ones have been coming out like crazy. This is exciting for us because it gives us the opportunity to offer medicines that we weren't able to before. We're still learning about them, but it's a new wave of discovery."
Dr. Roberts said the most fulfilling part of his job is working with kids. With kids, you can "let loose" a bit more and have fun.
"At the same time, you're helping them or curing them or making them feel better," Dr. Roberts said. "These are relationships we're going to have for potentially 18 to 20 years. We really get to know these kids. Children are fragile, but they're not as fragile as you think."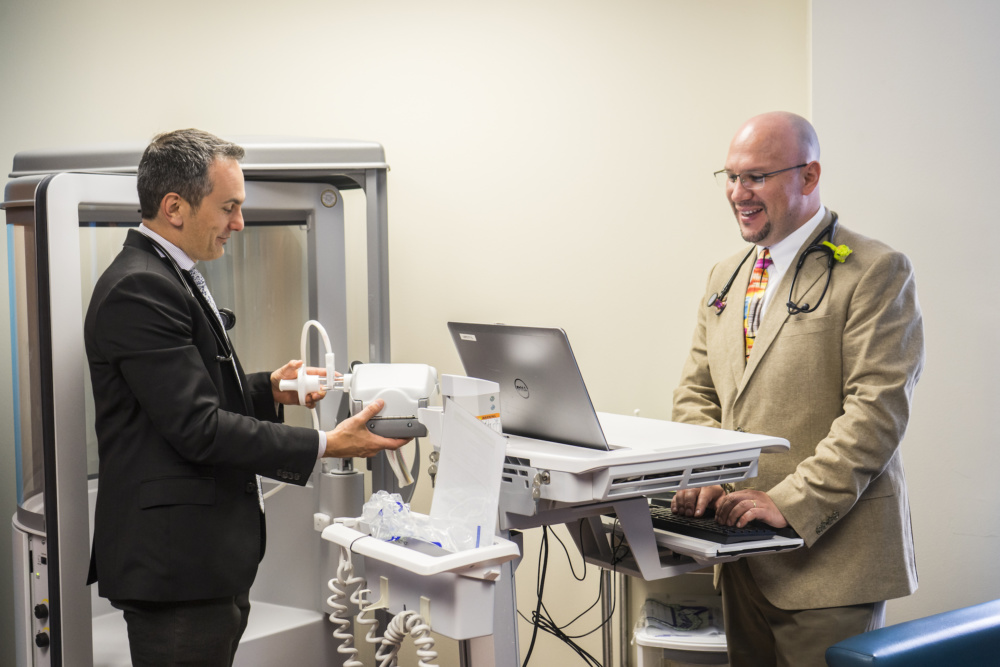 Pillars of Support
After eight years at Driscoll, Dr. Paul Nolan can sum up why his time at the hospital has been a positive experience in one word: support.
"Driscoll knows how important it is to support the community," Dr. Nolan said. "They know that physicians are needed in the community and they provide that support. It's outstanding."
Driscoll doesn't limit its patients to just Corpus Christi or South Texas. Dr. Nolan said he sees patients as far north as La Grange and as far south as the Mexican border. One young woman who has cystic fibrosis came to Driscoll, all the way from Mexico, because she wasn't getting the care she needed in her home country.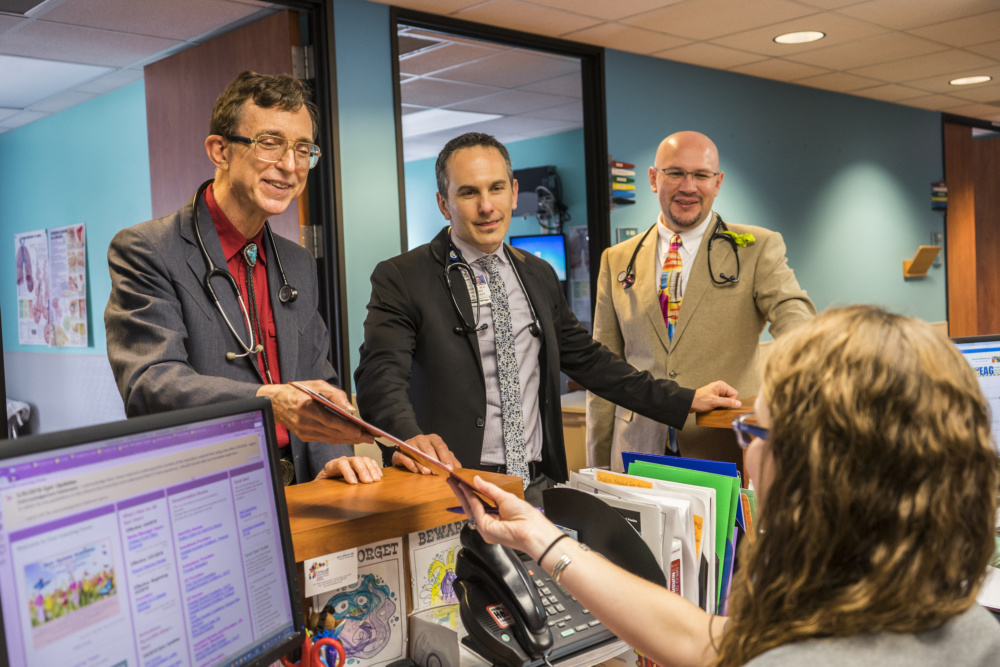 "This girl was literally dying when she came to see us four years ago," Dr. Nolan said. "We got her on the therapies and medications she needed, and her lung function started improving. It's very reassuring to see kids like her thrive. It's what I love to do – help children who can't breathe – breathe."
For Dr. Nolan, who finished his residency at St. Joseph Mercy Hospital and the University of Michigan's Mott Children's Hospital, support also comes in the form of his colleagues, Dr. Roberts and Dr. Encalada, the latter of whom Dr. Nolan helped mentor when he was a resident and encouraged him to go into pulmonary medicine.
"We all get along great and have great confidence in each other," Dr. Nolan said. "We're a very cohesive group."
That reliability within the team is essential, Dr. Nolan said, since the physicians at Driscoll always try to stay in the forefront with what he refers to as "evidence-based medicine." It's an approach to medicine that Dr. Nolan teaches his residents, the next generation of pediatricians (and potentially pediatric pulmonologists) who come through the doors at Driscoll.
"What I'm doing now is not what I was doing 32 years ago," Dr. Nolan said. "It's so important that we always stay on top of what might be coming down the pike."
For more information visit:
www.driscollchildrens.org
https://www.facebook.com/driscollchildrenshospital/