Michael E. Decherd, MD
Helping Women Transform Their Lives at The San Antonio Plastic Surgery Institute
By Jody Joseph Marmel
Dr. Decherd is a fourth-generation Texas doctor who chose plastic surgery because he enjoys helping people look and feel their best. He explains, "What I do is super personal and so it's a real honor to get to be a part of that with somebody. It is a big rush when they come in and I get to see the end results and interact with my patients about the experience." It is a win-win situation for Dr. Decherd and his patients. They all get to share in the experience and see and feel the positive effects as a result of the plastic surgery techniques performed by Dr. Decherd.
Tailoring each surgery to the patient's needs and desires, Dr. Decherd is well known for the "Mommy Makeover" procedure. Many women are dissatisfied with their bodies after their childbearing years. They see that their stomachs are no longer flat and that their breasts are not as perky as the used to be. They want to reverse this and by having the "Mommy Makeover", the results are exactly what they have been searching for. Through word of mouth and Dr. Decherd's five-star glowing reviews from a plethora of patients, he is well-known as one of the "Mommy Makeover" experts in plastic surgery.
The "Mommy Makeover" addresses breast surgery such as lifts, augmentations, or reductions. The flat stomach can be achieved via tummy tucks, liposuction, and other body contouring techniques. A "Mommy Makeover" is a procedure that combines multiple cosmetic surgeries that remove fat and skin to minimize the effects of pregnancy on the body. From patient reviews, the general consensus is that Dr. Decherd takes his time during the initial consultation and ensures that all questions are answered. His demeanor is friendly and personal. Patients also praise his staff because they all foster a friendly atmosphere that is encouraging and positive. From removing loose skin, to tummy tucks with muscle repair, breast lifts, and liposuction, many patients are beyond satisfied with the end results. Their scars are often barely noticeable because Dr. Decherd really cares about how the patients will feel and look post-surgery. "He even helps you choose the size of your new nipples," said one patient.He strives for perfection with each patient. Many patients finally have the confidence to get ready for summer with their new shape and their positive mindset.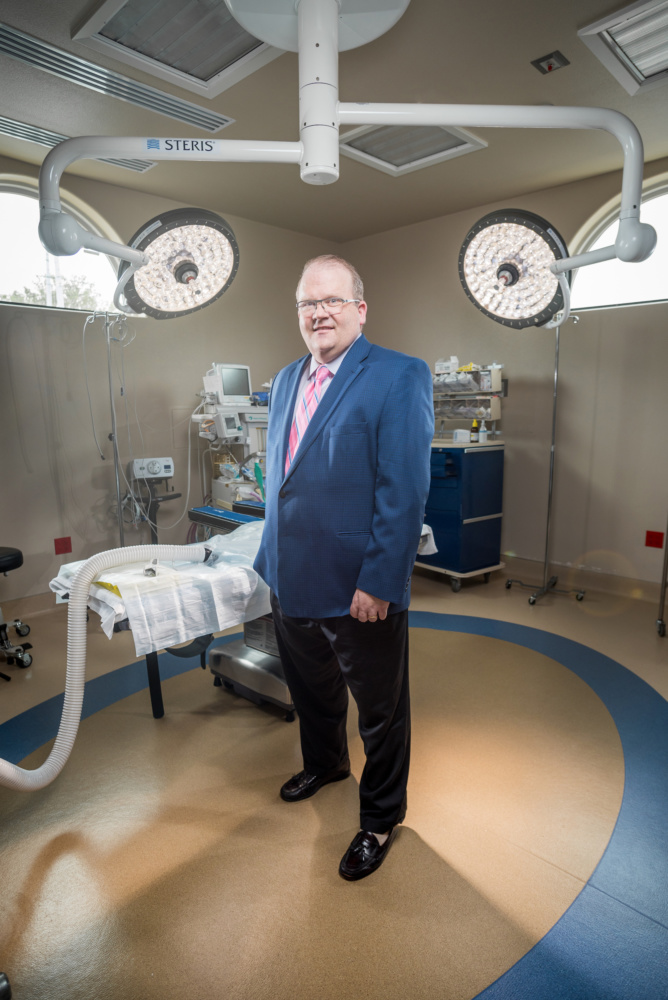 Dr. Decherd adds, "Some women think that women with implants will look silly. And I say, only women with silly implants look silly." It's as simple as that. Getting down to the basics and explaining his expertise goes a long way with his patient base. "I want to match the width of the implant to the width of the woman. Once you get the right width, everything looks right."
He elaborates on his philosophy. "It's very rewarding to be able to deliver something so personal and so powerful for somebody. I feel good about the interpersonal relationships that I make and the positive difference that I make in my patients' lives."
Patients typically visit a few plastic surgeons prior to choosing the one that fits their needs. It is obvious that Dr. Decherd's friendly and caring approach is working wonders. Women are gravitating to Dr. Decherd because of his approach and his techniques. He also removes the element of fear that is often associated with surgeries of any type. Dr. Decherd says, "People have fears about plastic surgery, and I say, just come on in and talk. If they don't want to do anything, then that is fine. Hopefully, I can help patients overcome these fears. That is part of the reason I am here."
Dr. Decherd's journey into medicine started when he was young. He did not want to be a doctor because everyone else was a doctor in his family-three generations of doctors to be precise. He enjoyed physics and decided to study electrical engineering. But the work did not excite him, and he asked himself, what do I really want to do? Biology was really interesting and after his explorations, he decided to go to medical school. While this set him back a year, in the end, that year was well worth it.
He received his medical degree from the University of Texas Southwestern Medical Center in Dallas, and then he completed his internship at the University of Texas Medical Branch in Galveston for general surgery. Dr. Decherd then went on to complete his residencies. In Galveston, he accomplished his residency in otolaryngology-head and neck surgery, and then he returned to the University of Texas Southwestern Medical Center for his residency in plastic surgery. He is board-certified in both plastic surgery and otolaryngology.
In 2004, he opened the San Antonio Plastic Surgery Institute and has built a very successful practice in the Alamo City. He emphasizes that plastic surgery is a "personal journey of transformation." Dr. Decherd details, "It is my goal to see you across the finish line." He ensures his patients that he is with them every step of the way. With his excellent bedside manner and plastic surgery experience with superior outcomes, it is not surprising that he has created a buzz that keeps on growing stronger via his reputation and his patients'reviews.
During his consultations, Dr. Decherd educates his patients on the many options that are available and works with them to help them with the best choices tailored for their needs. He wants each one of his patients to come to a decision with confidence. "If someone comes in and says help me accomplish this, I am going to try and figure out some way to do it." His perseverance and compassion continue to be some of the assets he brings to his practice every day.
Within Dr. Decherd's own words, one can truly understand what sets him apart in the plastic surgery field. "To get through the medical training process, you kind of have to be a hard core science dork. But what's really fun for me is the interpersonal relationships. The things that we do for people are super-important to them and super-personal. I am totally aware that we are not curing cancer, but what we do is valuable to people and how they feel about themselves. Being a part of this is a huge honor."
For More Information visit https://drdecherd.com/
https://www.facebook.com/DrDecherdPlasticSurgery/
Call 210-495-4100
414 W. Sunset Rd. Suite # 215
San Antonio, TX. 78209