Clinic is the only one in San Antonio to offer Healthgrades diagnostic test to detect health problems early
By Rudy Arispe
Dr. Bernice Gonzalez and the innovative medical model and services she offers her patients at Vital Life Wellness Center is unlike no other in San Antonio, all through the concept of integrated and functional medicine.
And just as unique that the model of Vital Life is, so, too, is Dr. Gonzalez, a standout in the medical community with dual board certifications in family medicine, and anti-aging and regenerative medicine.
Always looking to the horizon to what the future of medicine holds, Dr. Gonzalez is already one step ahead of the game. Currently, Vital Life is the only clinic in San Antonio to offer a revolutionary new medical procedure called Healthgrades, a series of diagnostic wellness tests that uses ultrasound as part of a complete exam of organs and tissues to detect conditions and illnesses early, such as blood clots, heart and lung problems, aneurysms and tumors.
"It involves a series of advanced screening tests to identify problems early," Dr. Gonzalez explained. "Traditionally, we would do a physical and examine patients with our stethoscope and hands and look at bloodwork. But most insurance companies are now advocating for more deeper wellness tests. Now we have this exciting diagnostic test for our patients that no one else in San Antonio offers."
The testing, which takes about an hour or so, begins with a brain map. "We measure electrical waves that come across the brain to help identify early memory loss, ADD/ADHD in children and brain patterns consistent with anxiety and depression," she said.
The test also includes a retinal exam to screen for eye and cardiovascular disease; screening of the carotid artery, the main artery that carries blood to the brain, to check for cholesterol or blockage in the arteries; a sonogram of the thyroid to screen for thyroid cancer; a lung function test; and a sonogram of the heart that provides a picture of all four chambers of the heart and more.
"It lets us know what's going on with a patient's tissue without exposing them to radiation or dye," Dr. Gonzalez said. "It allows us to detect problems early to keep people healthy and well."
At Vital Life, patients are introduced to and counseled on an array of extraordinary health and wellness services, including nutrition, exercise, gut health, weight loss and hormone replacement therapy, to name a few, in addition to standard health care. It's all part of the center's model of providing patients integrated and functional medicine, a rarity in San Antonio, that Dr. Gonzalez long dreamed of providing her patients when she founded her clinic 10 years ago.
"What we've created is really special, and I don't know if San Antonio recognizes what Vital Life offers," she said. "It's truly unique in the type of medicine and style of medicine we offer, and patients can use their insurance."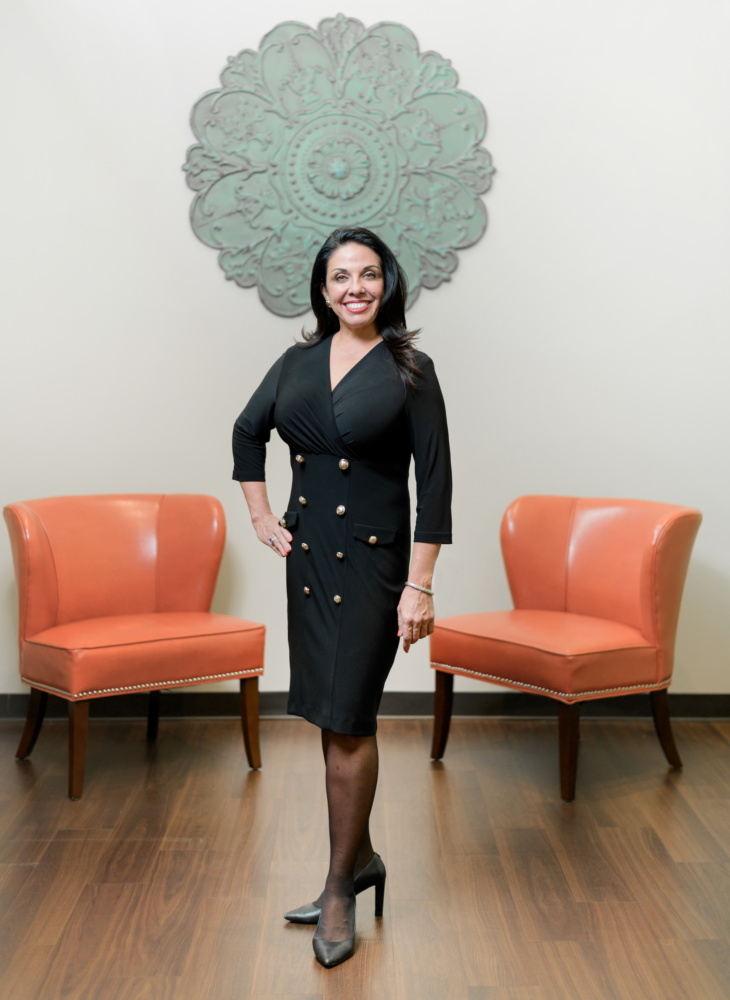 Dr. Gonzalez stresses the difference between the traditional model of medicine and the style of medicine at Vital Life. In the traditional model, patients see their doctor, typically for a short visit. The doctor addresses their main complaint and then prescribes a treatment plan that is pharmacy-based.
At Vital Life, however, each patient is treated as "an individual." Dr. Gonzalez and her team closely examines the diseases and health problems that run in their family and makes sure everyone receives the standard of wellness they are entitled to.
When it comes to treatment, Dr. Gonzalez believes the foundation of a patient's care should be based on lifestyle medicine, which pertains to teaching them about nutrition, exercise and natural hormone replacement therapy to improve the quality of life and decrease signs and symptoms of aging.
"We're all aging and can't stop the clock," she said. "But when using the concepts of nutrition, exercise, gut health and hormone balance, we can keep the body healthy and minimize symptoms of again so that people can live their best lives not dependent on pharmaceuticals. Although we offer disease management and write prescriptions, our goal is to minimize the amount of prescriptions a patient has to take."
Dr. Gonzalez is a huge proponent of gut health, all backed by tons of research she has read on the subject. "A lot of people are putting food into their mouth that doesn't agree with their body," she said, "and even though some are making good choices, there are chemicals in our food." The gut is important for a healthy immune system, and 70 to 90% of immune system function comes from the gut, she explained.
And there's nothing more satisfying for Dr. Gonzalez to see her patients in their '70s and '80s who are independent and mentally sharp. "They're living independently, active lives and not taking a bag full of pills," she said. "It's fun to see our patients who are older, get healthier."
One patient who has achieved great health strides through treatment and encouragement at Vital Life is Daniel Martinez. Two years ago, the then 31-year-old found himself in a physical and mental slump, not to mention carrying 290 pounds on his 5-foot-6-inch frame and being diagnosed as pre-diabetic.
"I was constantly fatigued, had low energy and anxiety problems," said Martinez, 33, a principal at a local parochial school.
Most recently, Martinez has been participating in bio-identical hormone pellet therapy and focusing on health and wellness, including doctor's order of seeing a specialist to treat sleep apnea. Soon after, he started doing CrossFit and physical therapy, as well as food and nutrition counseling at Vital Life.
"I feel like a completely different person," Martinez said of the benefits of hormone replacement, adding that his current weight is now 168. "I'm doing things now I didn't even do when I was younger, like CrossFit and running in Spartan races and the Rock 'n' Roll Marathon. I attribute it all to Dr. Gonzalez who helped me get to where I am today."
In addition to medical services, such as allergy treatments, family medicine and sports injury, Vital Life also offers aesthetic services, including botox and fillers, nutritional supplements and body sculpting.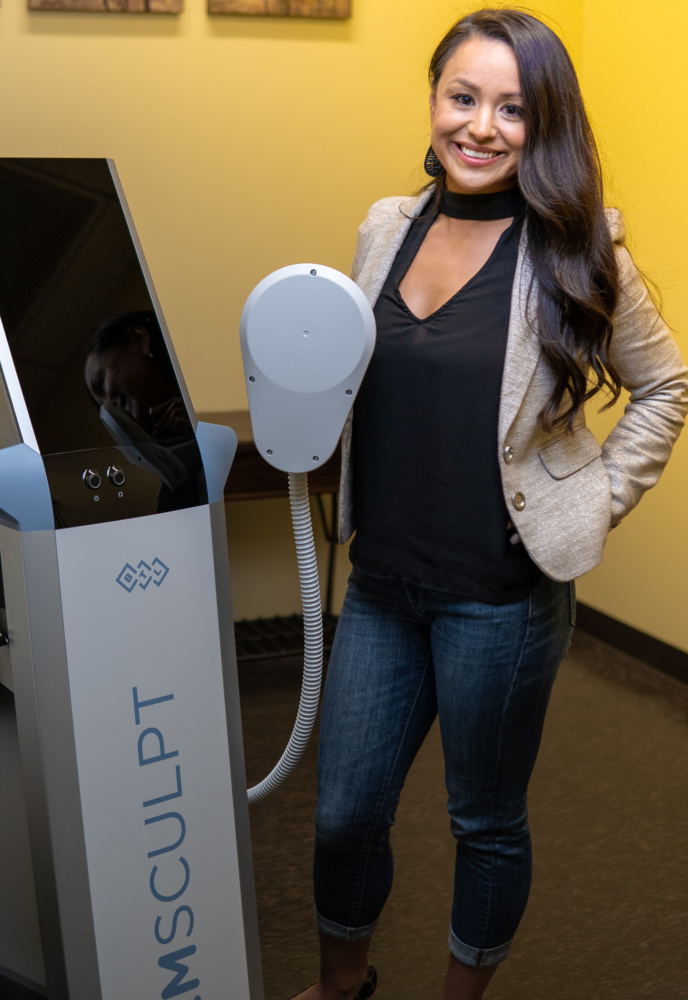 One of the newest body contouring devices on the market that Vital Life offers is the FDA-approved Emsculpt which strengthens and tones the abdomen and buttocks, said marketing specialist Nichole Nash. "It uses high-intensity, focused, electromagnetic energy to induce 20,000 muscle contractions within 30 minutes," she said. "Our typical Emsculpt patient is someone who works out but has hit a plateau and wants to tone certain areas. Recovery time is minimal. Some people say they are sore the next day, while others say they feel nothing at all."
Nash invites those interested in Emsculpt to schedule a free demo.
Vital Life has two locations with nine wellness experts and practitioners: 418 North Loop 1604 West in Stone Oak and at 2520 Broadway, Suite 100. For more information, visit www.vitallifewellness.com or call (210) 595-1019.